Help with balance beyond therapy | Health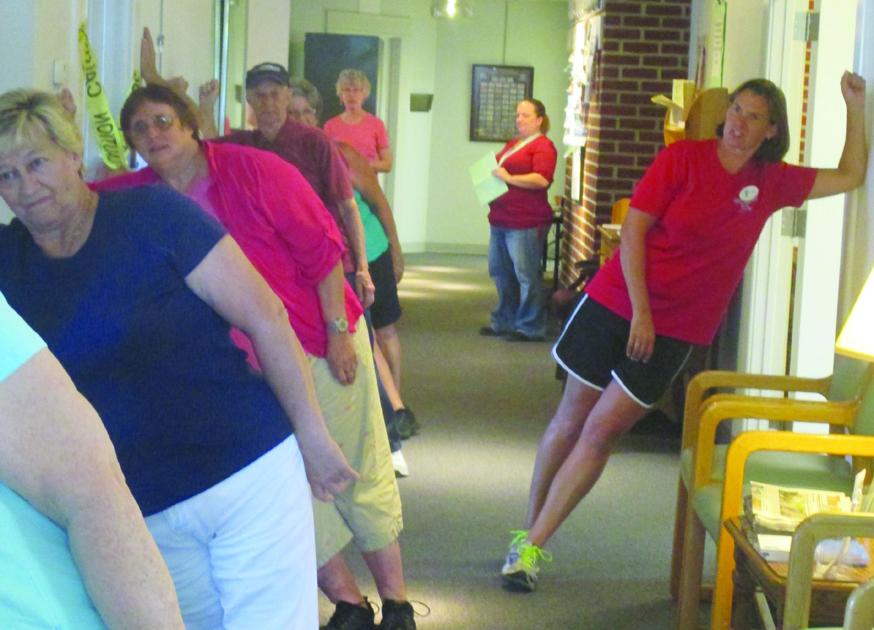 Health care providers recommend physical therapy for a number of balance issues. But after therapy is over, patients are encouraged to continue building strength with their own exercises. Classes and community programs can help.
Geisinger offers A Matter of Balance, an eight-week program that helps reduce risk factors for falls and build muscle through simple exercises. As part of Geisinger's 65 Forward membership, the program is offered free of charge and is open to the public. Participants can be referred by their health care provider or can register themselves.
The first two weeks are more informative, discussing the factors that lead to decreased balance and strategies for making homes safer, said Carmela Carr, wellness specialist at Geisinger Health Plan.
"In sessions three through eight, that's when they start doing the exercises, and they love it," she said. "This is something that can definitely be done to help improve their strength and endurance for their lower body, legs and ankles."
It is important to note that the program promotes manageable goals. "Not, 'I'm going to start walking a mile a day,'" Carr said, but action plans that are broken down into achievable steps.
UPMC Centers for Rehab Services offers a variety of treatments and strategies for balance problems beyond immediate therapy.
"We teach people to better prepare their environment to avoid loss of balance," said Cailin McCullion, physiotherapist at UPMC. "So make sure they have lights on in the house. Making your way, not having any objects you can trip over in your house. It's a little harder in the community because we can't always manage our surroundings but just teach them little tips to help prevent a fall or injury.
Carr, McCullion and Janine Fee, certified vestibular physiotherapists at the Evangelical Community Hospital, recommended simple solutions like making sure mats don't roll up or slide easily on the floor, carry laundry down in a bag. backpack instead of a basket and be sure to wear sturdy clothing shoes like sneakers.
Physical Therapy of Evangelical is located in the Lewisburg YMCA at the Miller Center for Recreation and Wellness, making it easy for patients to transition from therapy to exercise classes. Yoga, tai chi, silver sneakers, and other programs can all help improve balance, and Fee said she also recommends exercise videos for people to do at home.
"Once we've signed you up for a program, our goal is to take the load off you and keep you going with a fitness program or home videos," she said.
Achievements
Balance specialists don't have to look far when asked to share success stories. When patients follow the instructions and do the appropriate exercises, a more stable gait can be achieved.
A woman Fee worked with at Physical Therapy of Evangelical wanted to walk her dog, but bending over to pick up after that made her reeling. She was afraid of falling. Fee helped her do leg strengthening exercises and learn to know where her body is in space.
"She was really happy with her progress," said Fee. She said, 'I can bend over and pick things up without wanting to fall. ""
Bilateral neuropathy caused both feet to drop when another Fee patient walked. Even staying still made him unstable. As a veteran, he wanted to attend a military funeral to pay respect to the dead, but it required being comfortable during ceremonies and firing his rifle for salvation.
The neuropathy might never go away, but Fee taught her how to use her hips to keep herself from falling. With determined work, man is now able to stand up without clinging to anything and does not feel like he is going to fall.
"I just can't believe how well he is doing," Fee said, noting that she had placed him on an uneven surface and asked him to use his cane to show he was shooting with his. rifle, and he did very well. "He's excited. He has a funeral coming up this weekend and said, "I'm pretty confident I can do it."
McCullion worked with a woman at UPMC who had neck and back problems as well as weakness and vestibular problems. The woman used to walk two to three miles with her husband, but had stopped because a lack of balance made her feel unsafe.
Even with a few disheartening setbacks, the woman continued to work on the program McCullion had designed for her, and after two months she arrived at therapy delighted to tell McCullion that she had taken a three mile walk and that 'she hadn't needed her husband's help at all.
"She was thrilled. I was delighted, "said McCullion. "It was pretty cool."
At A Matter of Balance, Carr receives feedback from many clients saying that the exercises in the classroom have given them the confidence and motivation to move more without fear of falling and breaking a hip – one of the biggest concerns of people with disabilities. unstable equilibrium.
One participant said the program gave them the tools to solve problems by breaking down their problems and fears into manageable steps.
Balance issues shouldn't stop people from living the life they want. As long as they are motivated enough to seek help and follow the instructions of therapists, they can usually find at least some degree of improvement to get them back to doing the things they love.
"I tell people, we can coach you and guide you," Fee said, "but you have to get the job done."
Cindy O. Herman lives in Snyder County. Email your comments to [email protected]