A serene, adults-only escape nestled in the Cook Pine-lined mountains and surrounded by lush, unspoiled gardens Sensei Lana'i, A Four Seasons Hotel. To say that this exclusive wellness retreat in Lāna'i, Hawaii is the crème de la crème would be a complete and absolute understatement. I spent four days in the spiritual highlands of Ko'ele on an all-expenses-paid trip to experience the resort's private pools and dreamy onsen garden, body-mapping thermal massage, private spa baths, Tai Chi/fitness classes, sunrise breakfasts and dinners at Sensei by Nobu, and much more, all while work with a Sensei guide set personalized goals for my stay. Every little detail is taken care of for the senses, comfort and well-being of the client. Unsurprisingly, I wish I was still relaxing by the pool with a Lillikoi Margarita in my hand. Alas, I brought home the best kept secrets Sensei taught me about how to slow aging and live better. Read on, because I'm here to share these coveted wellness habits with you.
Sensei Lāna'i was created by Larry Ellison, who bought 98% of the island in 2012, and Dr. David Agus, with the primary goal of helping people lead longer, healthier lives. The retreat stays true to its core, the Sensei Way, which infuses preventative health science, research, and data into three pathways of daily living: "move, eat, and rest."
In a 2020 interview, Dr. Agus explains on his website: "When guests arrive, we seat them with guides. They build a program based on data. When you go for a massage, we first do a thermography on your body. . We see where there is inflammation. We examine how you react to food. We measure your sleep so that in the morning we can tell you about your nighttime sleep. You can note when you exercise, here's what it does to your sleep, and when you have three glasses of wine, here's what it does to your sleep. A big goal of Sensei is to have them around the world and in cities so that it can be a new lifestyle. Dr. Agus also notes that they spent two years working with Chef Nobu (Matsuhisa) reviewing menu options so that every ingredient used "is thought about on a holistic basis."
My first day at Sensei consisted of thermal body mapping and a 150-minute massage in a private spa. "Hale" means "home" in Hawaiian, so expect to enjoy pampering in your own intimate spa oasis, complete with luxury treatment tables, private plunge pools, infrared sauna, steam room, rain shower exterior, and more. The floor to ceiling doors were open so I enjoyed the sound of a small waterfall down the back of my hale during the treatment.
Heat body mapping was unlike anything I had experienced before and was 100% tailored to my body's needs. My technician used thermographic technology developed exclusively by Sensei to organize a visual map of the body. This identified where I had muscle tightness, strain and/or pain. From there, I was able to enjoy an extremely personalized massage that focused on the areas that needed the most attention: the lower back and shoulders. There were different massage oils to choose from, and I tasted each one before selecting "Wake", a blend of grapefruit, crisp neroli, ambrette musk and seaweed. (Grapefruit essential oil is associated with lower blood pressure and lower stress levels, while seaweed promotes younger looking skin.)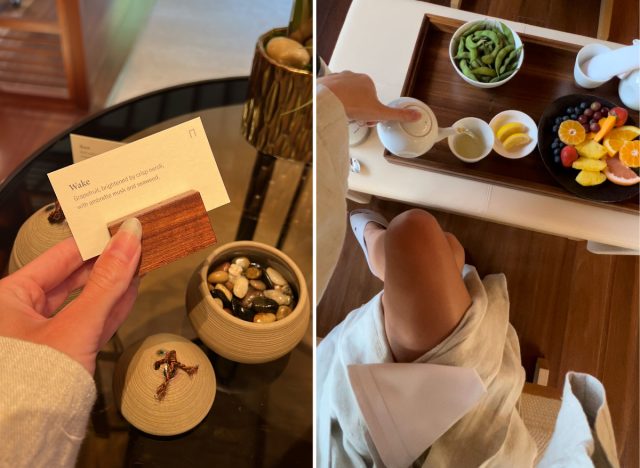 The post-massage completed the ultimate pampering session for my mind and body. I savored a platter of fresh fruit, edamame and lemon tea in an extremely plush bathrobe, then plunged into the two plunge pools and the Japanese ofuro tub. Showering in the outdoor rain shower was the icing on the cake for my down time.
Related: Fight the Signs of Aging With This Simple Lymphatic Massage, Says Expert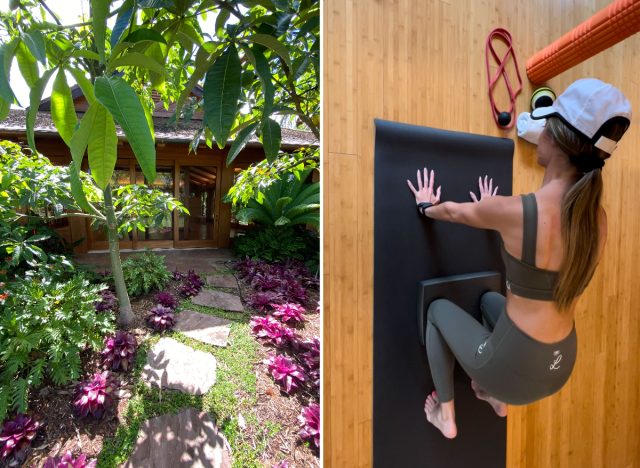 I came out of my 1:1 fitness sessions with one of the biggest keys to slowing aging and living better: a solid stretching routine to start each day, a routine that will eventually help me correct my pelvic tilt (which can lead to lower back pain, poor posture, and other health issues down the road).
We started the routine with 10 three-dimensional breaths at full capacity, going from my belly, to my chest, to my throat, holding, then taking a long exhale. We then worked on a soft tissue release practice with a trigger point ball to really refine the tightest places on my body – my chest, lats, around my shoulder blades and around my hips. Stability work on my scapula and shoulders came next, with exercises like a one-arm scapula pushup on a yoga block. And finally, we did a series to help build strength and stability in my abs with bridge work.
Related: The Best Restorative Yoga Poses To Do On A Stressful Day, Says A Certified Yoga Instructor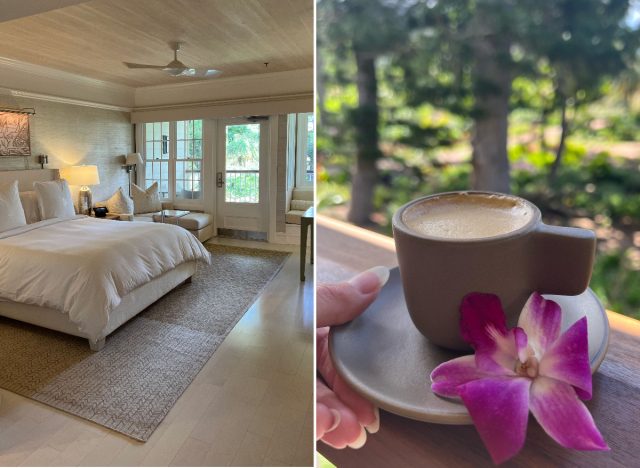 Another aspect of Sensei that made me feel ultra-rejuvenated was my room. It was equipped with all the amenities to make it an oasis of comfort and relaxation day or night: floor-to-ceiling blackout blinds, a sumptuous king-size bed with fluffy pillows, night lighting, a fluffy bathrobe and slippers, 'Aina plumeria + 'awapuhi bath products, an iPad to order room service and get in touch with reception, an espresso machine and a balcony that overlooked the exquisite gardens – I sipped my morning coffee here ! (Oh, and did I mention that the resort's heated toilet seats with nighttime lights are a luxury beyond the ordinary?)
The aesthetics of your bedroom can have a huge impact on your sleep and, in turn, help you slow down aging and live better all around. Little things like the temperature at the lighting at the mattress firmness can make a huge difference when trying to fall asleep in Dreamland. And of course, the amount of good quality sleep you get has a major effect on your daily performance and your mood. I've had solid rest and relaxation at Sensei's, and now have some useful tools to turn my own bedroom into a calming space at the end of a long day at work. Coupled with the fitness classes I took and the hike I did in retirement, it's safe to say that my recovery to sleep ratio was pretty much on point.6254a4d1642c605c54bf1cab17d50f1e
I had the privilege of dining at Sensei by Nobu every night and I really wish I could eat this way all the time. The tasting menu outlines the restaurant's clean eating philosophy, which "is not just about the enjoyment of the meal, but also about how an individual feels after the meal. Consuming foods as nature delivered them, with optimal nutritional benefits and flavor, is essential for this menu." Sensei strives to collaborate with producers who share their same passion for local, seasonal and organic products. They also highlight products from Sensei Farms Lāna'i, "where we measure the distance from the farm to the table in steps."
In addition to the tasting menu, diners can select appetizing options from the Sensei Nourish and Sensei by Nobu menus. I enjoyed the tasting menu on the first night, with A-5 Wagyu Tobanyaki and mixed seafood Shabu Shabu, which is a hot dish of scallops, prawns, oysters and Inaniwa noodles that I cooked straight to my seat in a simmering broth. I also fell in love with the taste of Sensei Farms Tomatoes (fresh tomatoes with smoked tomato vinaigrette), Hearts of Palm (jalapeño vinaigrette, EVOO) and Whitefish Tempura (jalapeño, cilantro, Calamansi sauce).
Suffice it to say, Sensei really doesn't skimp on "move, eat, and rest." Are you ready to slow aging and live better? If so, I hope I've convinced you to hop on a plane to Lāna'i to experience the wonders of this wellness retreat for yourself.